Nightshades Mobile Entertainment
Nightshades Mobile Entertainment
Is a Mobile Disc jockey and Karaoke service based near Appleton - Oshkosh Wisconsin for venues of all types and sizes. While primarily a Wedding reception specialist, Nightshades can provide the background music for your fundraiser auction, the rowdy rock mix for your outdoor party, or flashing lights and disco for your high school reunion, All of your musical entertainment needs are fully provided for with hit music from the 40's to the present.
Premium sound and lighting is optimized to provide a complete show. Even your non-dancers will be mesmerized by a fully automated light show that flashes in time to the music.
Nightshades can also provide karaoke services or a "mix" of both. All events are tailored to your needs.
More than just music...
My service includes a complete agenda that we can work out in advance, Your entire ceremony and reception can be coordinated in advance ensuring that your event runs as smooth as possible... Don't be suprised to see me running around the room making sure that the father is ready when I announce the father-daughter dance, And that Mom is standing by for her turn too!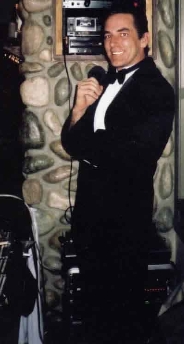 DJ Nightshades
Karaoke Available!
Have a great Wedding!
No matter which company you decide, I wish you all the best and hope your event is completely successfull.
Email me
if you have any questions at all, I will not downplay or recommend my competition in any way, but I may be able to assist you with information about Disc Jockey services in general. Feel free to contact me or visit one of the websites on my references page for more information.